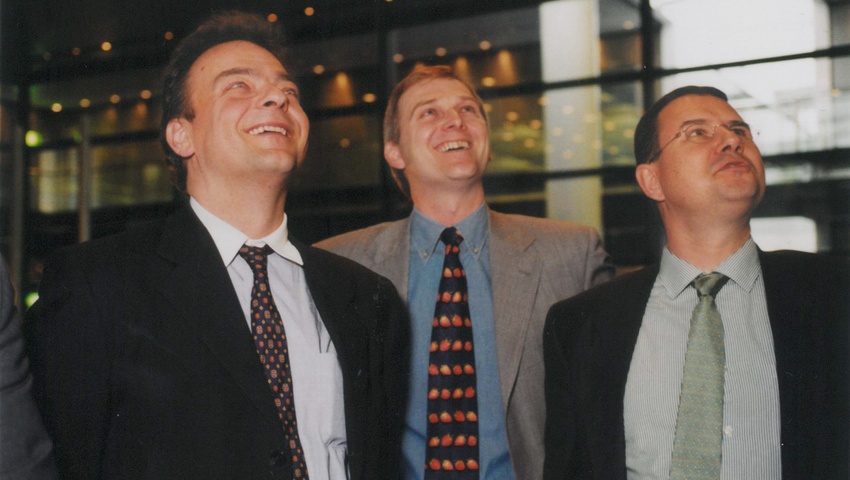 The beginning
In 1990, Marc Bürki and Paolo Buzzi set-up Marvel Communications SA, a business specialising in financial software and web applications. The business was the forerunner of Swissquote, launched in 1996, which was the first financial platform to offer free access to prices for all securities traded on the Swiss stock exchange. To this day, swissquote.ch is visited 2 million times per month and is still Switzerland's largest financial portal.
On 29th May 2000, Swissquote shares (SQN) were floated on the SIX Swiss Exchange.
By enabling private investors to access real-time prices free of charge we followed our mission of "democratising banking" - transparency, integrity and unbiased information for the benefit of our clients, allowing them to make independent decisions. Through the success of this proposition Swissquote Group Holding Ltd was created and listed on the SIX Swiss Exchange in May 2000. In 2001, Swissquote Bank Ltd obtained a banking licence.
Following our aim to create connections to the world's top financial exchanges, we gained access to the Swiss Stock Exchange (at the time SWX and Virt-X) as well as to the US NYSE, NASDAQ and AMEX exchanges in 2001. At the same time we became the first pure online bank in Switzerland and were awarded as the Best Swiss Online Broker.
After the takeover of Consors (Switzerland) AG in 2002, followed by the takeover of the clients of Skandia Bank Switzerland, further markets, financial products and services completed our offer.
Even though Swissquote was a fully regulated bank it was seen as an outsider to the well-established Swiss banking fraternity.  Not being a part of the Swiss banking establishment and within the context of the financial crisis of 2007/8, Swissquote became more and more attractive to the private investor for whom our proposition of "democratising banking" truly resonated.
Always in search of new approaches to the complex issues of finance, we created a chair in quantitative finance at the EPFL in Lausanne in 2009 and launched our first Quant Fonds.
In 2010, the acquisition of Advanced Currency Markets AG (ACM) one of the country's largest currency traders allowed us to consolidate our position as a leader in online trading and helped us to rapidly expand our Forex dealing. A further step to democratising banking was the launch of a new service the same year: ePrivate Banking, electronic asset management for discerning clients who were looking for a professional yet easy to use tool to personally manage their portfolio.
In September 2013, we secured a place in the international market by acquiring MIG Bank, a major Forex broker. This acquisition propelled Swissquote into the world's top ten online currency trading service providers.
The same year, Swissquote Ltd was established in London, incorporating elements of MIG Bank, to bring Forex online services to all markets in the European Union.
During the last years, we have added more significant services to our broad offer: online mortgages in collaboration with BLKB, Swiss DOTS, the trading platform for derivative products in collaboration with UBS, Goldman Sachs, Commerzbank, Vontobel and Deutsche Bank as well as our partnership with PostFinance in 2014. 
In 2015, Themes Trading, a new service in the Fintech environment, provided our customers with insights to invest in comprehensible and relatable trends. In the same year, Swissquote and Manchester United announced an agreement on a global multi-year partnership. With this cooperation, Swissquote is aiming to share to its services and expertise with a broader, international public.
Always on the lookout for creative solutions, in 2016 Swissquote launched an Apple TV application, which provides continuous financial news coverage on TV. Inspired by Pokémon GO, our engineers developedSwissquote GO, the first financial based game in Switzerland. Our Quant Fund, which uses the same algorithm as our Robo-Advisory solution, won the Thomson Reuters Lipper Fund Award 2016, declaring it the best performing equity fund over 3 years with an average growth of 8.6% per year and a total return of almost 60% since its inception in 2009.
In 2017, Swissquote hit another important milestone by becoming the first bank to offer five cryptocurrencies (Bitcoin, Bitcoin Cash, Ether, Litecoin and Ripple) providing simple and safe trading to all customers. To secure unlimited access to the European markets, in August 2018 Swissquote bought the Luxembourg-based Internaxx Bank S.A. with around 12'000 clients and client assets of EUR 2 billion. In the same year, another innovation came to live: a multicurrency credit card that can be used to pay in 12 different currencies without conversion fees.
Since October 2018 clients have the chance to participate in initial coin offerings (ICOs) with the possibility to directly buy tokens for Swiss francs through your Swissquote account and hold them in custody at Swissquote. The start-up company LakeDiamond, a spin-off of École Polytechnique Fédérale de Lausanne (EPFL), launched the first ICO on Swissquote's platform. The company produces lab-grown diamonds for industrial applications such as lasers, microelectronics and clockwork.
Among the highlights of 2019 are the successful acquisition of the Luxembourg-based Internaxx Bank S.A. The acquisition of Internaxx, with EUR 2 billion in client assets, provides Swissquote with unrestricted access to the European markets and strengthens its position as an online investment provider for both institutional and private clients. In the same year, Swissquote is opening another office in the Asia-Pacific region with Swissquote Singapore Pte.
Digital banking is part of our DNA and we will continue to be curious, creative and inventive in order to facilitate and democratise the world of finance for our clients.
Our vision
We want to provide the world's most pioneering and intuitive online trading services. Therefore we challenge convention via the delivery of innovation and technology.
2022
New partnership between Swissquote and Luzerner Kantonalbank (LUKB) for mortgages
—
Swissquote becomes an issuer of structured products under the "Yield Booster" brand in cooperation with Leonteq
—
Acquisition of Keytrade Bank Luxembourg
2021
Launch of neobank Yuh SA, a joint venture between Swissquote and PostFinance
—
Official sponsorship agreement with the UEFA Europa League and the UEFA Europa Conference League
—
Wider product range with CFD trading on stocks and opening of crypto trading to EU clients
2020
Launch of the exclusive leasing partnership in Switzerland with Tesla
—
Development of sponsorship in Switzerland with the clubs GSHC, SFC and ZSC Lions, as well as the Gonet Geneva Open tournament
2019
Creation of Swissquote Singapore Pte. Ltd approved by the Monetary Authority of Singapore (MAS)
—
Nine additional stock exchanges in the Asia Pacific region made available online to our clients
—
New possibility for clients of transferring cryptocurrencies to and from a private external wallet
2018
Takeover of Internaxx Bank
—
Launch of a multi-currency credit card
—
First Bank worldwide to offer the participation in Initial Coin Offerings (ICOs)
2017
First online Bank to offer crypto trading with Bitcoin, Bitcoin Cash, Ether, Litecoin and Ripple
2016
First Swiss bank to launch an Apple TV app
—
Swissquote Quant Fund awarded best performing Swiss equity fund